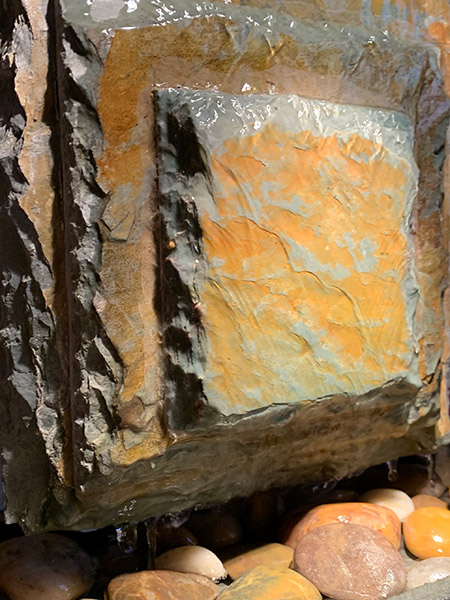 The "water-over-rock" display in my office trickles to my ear, and attracts my eye. I am momentarily transfixed and wonder, "Why is the term 'living water' used?"
I ask questions:
Is there something about this display that speaks to me?
What have I not noticed, all those years of use, that this creator of ambience portrays?
Is the Divine being revealed by the inanimate?
Lord, you are the hope of Israel; all who forsake you will be put to shame. Those who turn away from you will be written in the dust because they have forsaken the Lord, the spring of living water. – Jeremiah 17:13
As I further contemplate this display…
Ever changing, yet unchanged
Making present, delightful sounds

Drawn to

it, pleasing to the eye

Quieted by

it, pleasing to the ear

Refreshed through

it, reviving the soul
Endless, continual source
Moving, flowing, glistening, dripping, living
Dry, dull stones made wet, colorfully alive
THE Questions To Me: Am I drawn to the Source of living water? By my taking it in, am I so transformed within, that this Living Water flows from me to others?
Whoever believes in me, as Scripture has said, rivers of living water will flow from within them. – John 7:38 NIV
—RWO/MAST